Sports
"High-Stakes Showdown in Seattle! Avalanche's Offensive Firepower vs. Kraken's Defensive Woes – Who Will Prevail?"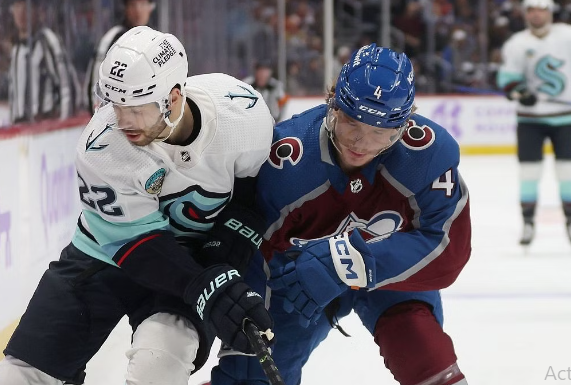 The Colorado Avalanche, currently carrying a three-game road losing streak, are set to face the Seattle Kraken (5-7-3) at Climate Pledge Arena in Seattle on Monday, November 13, at 10 p.m. ET. ESPN+, ALT, and ROOT Sports NW will broadcast the game.
READ: "Sassuolo vs Salernitana: Anticipated Prediction and Betting Tips for November 10th, 2023 Serie A Clash"
Avalanche
Date and Time: Monday, November 13, at 10 p.m. ET
Venue: Climate Pledge Arena in Seattle
Broadcast: ESPN+, ALT, and ROOT Sports NW
Live Streaming: FuboTV
Radio: 92.5 Altitude Sports Radio, WGR 550 Sports Radio, and Fox Sports Radio
Colorado Avalanche's Offensive Prowess Shines
The Colorado Avalanche (8-5) are enjoying a remarkable season, propelled by their potent offense averaging 3.23 goals per game. In the last three games, they've netted an impressive 11 goals, with the top line led by Nathan MacKinnon and Mikko Rantanen contributing 15 goals and 19 assists.
Artturi Lehkonen, Valeri Nichushkin, and Ryan Johansen have also added 10 goals and 16 assists. Defensive contributions from Cale Makar and Devon Toews, with four goals and 17 assists combined, further enhance the team's offensive capabilities. However, defensive struggles have resulted in an average of 3.31 goals allowed per game.
Despite Makar and Toews leading with 2.1 defensive point shares, the remaining defensive unit has faced challenges, leaving opponents with ample opportunities. Goaltender Alexandar Georgiev has struggled with a .887 save percentage and a 3.29 GAA. The Avalanche are dealing with several injuries, including key players like Chris Wagner, Andrew Cogliano, Pavel Francouz, Gabriel Landeskog, Artturi Lehkonen, and Jean-Luc Foudy.
Defensive Challenges Plague the Seattle Kraken
The Seattle Kraken (5-7-3) are facing a tough season marked by offensive struggles, averaging only 2.60 goals per game. Despite efforts from Jaden Schwartz and Oliver Bjorkstrand, who have combined for 14 goals and 12 assists, the rest of the offense has encountered difficulties.
With only three skaters boasting four goals or more, the offense becomes vulnerable. The defense has been a letdown, allowing 3.40 goals per game, including 17 goals in the last four games. William Borgen and Jamie Oleksiak have contributed 1.4 defensive point shares, but the rest of the defensive unit has struggled.
Goaltender Philipp Grubauer faces challenges with a .891 save percentage and a 3.37 GAA. The Kraken are dealing with injuries to key players, including Jordan Eberle, Brandon Tanev, and Andre Burakovsky.