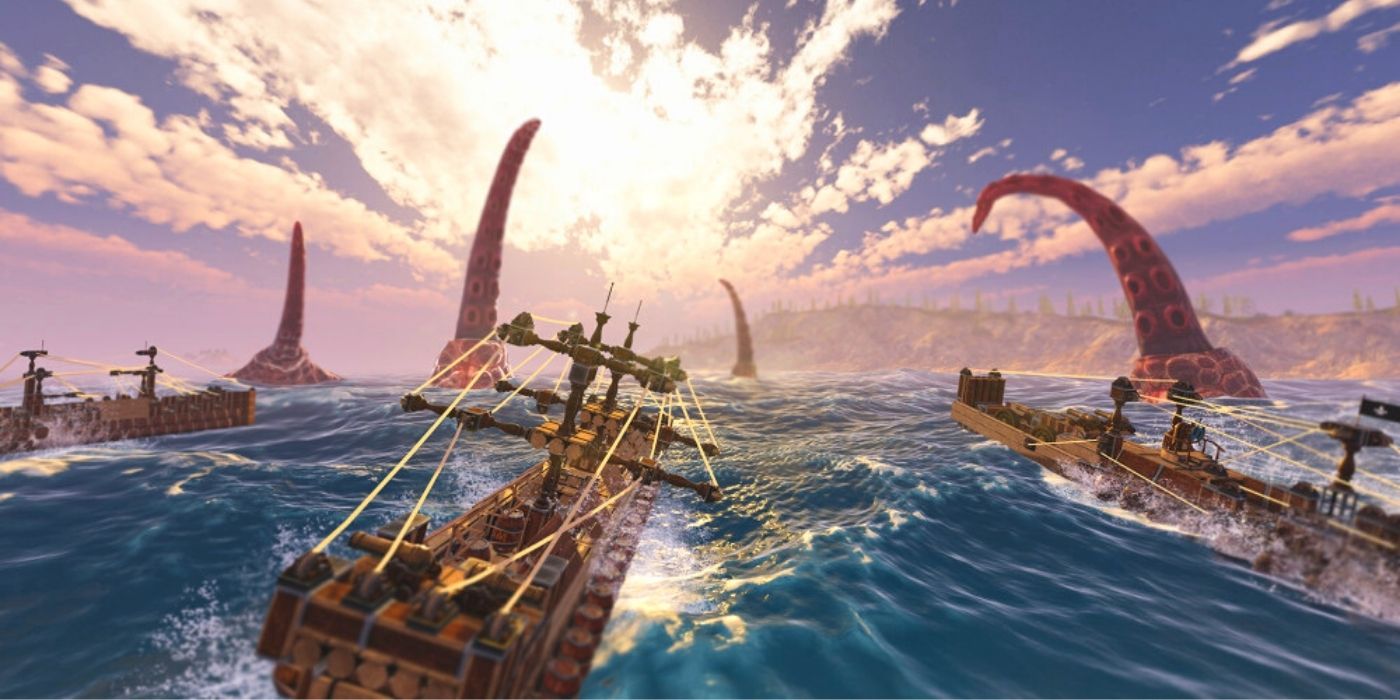 A brand-new pirate-themed sandbox game, Sea of Craft, is hitting the high seas, and it gives off a serious Sea of Thieves-meets-Robocraft vibe.
Green Man Gaming Publishing has teamed up with Wizard Games to produce Sea of Craft, a brand-new pirate-themed sandbox game that seems like a combination of Robocraft and Sea of Thieves. The game, which is set to launch in early access in summer 2021, lets players sail the open seas in their very own crafted ships. Sea of Craft can be played in either single-player, open sea, or sandbox mode, much like Sea of Thieves, and has a ship-crafting system that looks wildly similar to Robocraft. The game features PvP battles across the ocean, with hand-crafted ships that unleash the imagination, as well as distinct PvE elements that pin players against the dangers of the deep.
Continue scrolling to keep reading
Click the button below to start this article in quick view.
Sea of Craft is hitting the ground running, and though not much is known about the sandbox pirate game, the trailer and close release date mean that players will be seeing a lot of the Wizard Games' project. The pirate genre has had a few heavy-hitters as of late, with the trailblazing Sea of Thieves sparking a lot of interest from the gaming community. Blazing Sails, a pirate-themed battle royale, and King of Seas, the latest open-world pirate game attempt, have both hit Steam with decent reception, and now it seems a new contender is vying for space in the market. This one, however, is taking some tricks from the ultimate vehicle-crafting, action PvP game: Robocraft.
Related: Steampunk Pirate Game Black Skylands Enters Early Access On June 11
According to Green Man Gaming Publishing, Sea of Craft is an open-world sandbox pirate game that has two years of intense development behind it. The early access version is currently being polished and will likely release in Steam Early Access this summer. The game features three distinct game modes and a massive, 64km² open-world map, with realistic water physics and a plethora of dangerous critters. Players get to create their own sea-faring vessel and traverse the deep, blue sea, finding resources, trading ships, and blowing a hole or two in enemy vehicles with powerful cannonballs.
The game looks like an intriguing attempt at a PvP-focused open-world game, making good use of the pirate genre. Though there doesn't seem to be a whole lot of land exploration like in Sea of Thieves, the game has a tremendous amount of open-ocean gameplay possibilities that could lead to being more flexible than the stiff ships currently used in the pirate genre. Robocraft, a vehicle-crafting game with massive multiplayer PvP, has done things similarly, allowing players to craft their own specially-designed vehicles. With the addition of ocean combat in Sea of Craft, however, those possibilities can be wildly expanded.
Sea of Craft will also have four unique minigames that add a fun way of exploring the game's mechanics. From racing-themed to spy hunt minigames, players will likely need to adapt their vessel to fit the need of the specific challenge. This requires creativity that is often neglected in other sandbox games (which only require players to create weapon-heavy designs). With a well-designed roadmap to push the game past early access, Sea of Craft could become something special. However, many Steam games find it hard to crawl out of early access. Perhaps this game's fate is different.
Next: Subnautica: Below Zero Leaves Early Access, Full Release Now Available
Sea of Craft will enter Steam Early Access in summer 2021
Source: Green Man Gaming Publishing
90 Day Fiancé: Yara Accused of Wearing a Wig to Hide Post-Baby Hair Loss
About The Author
Daily Post USA Breaking News, World News, USA
Daily Post USA||World News||Entertainment||USA||Sports||