Movie/tv News
Jeremy Renner's Hawkeye Images Tease Huge Car Chase Scene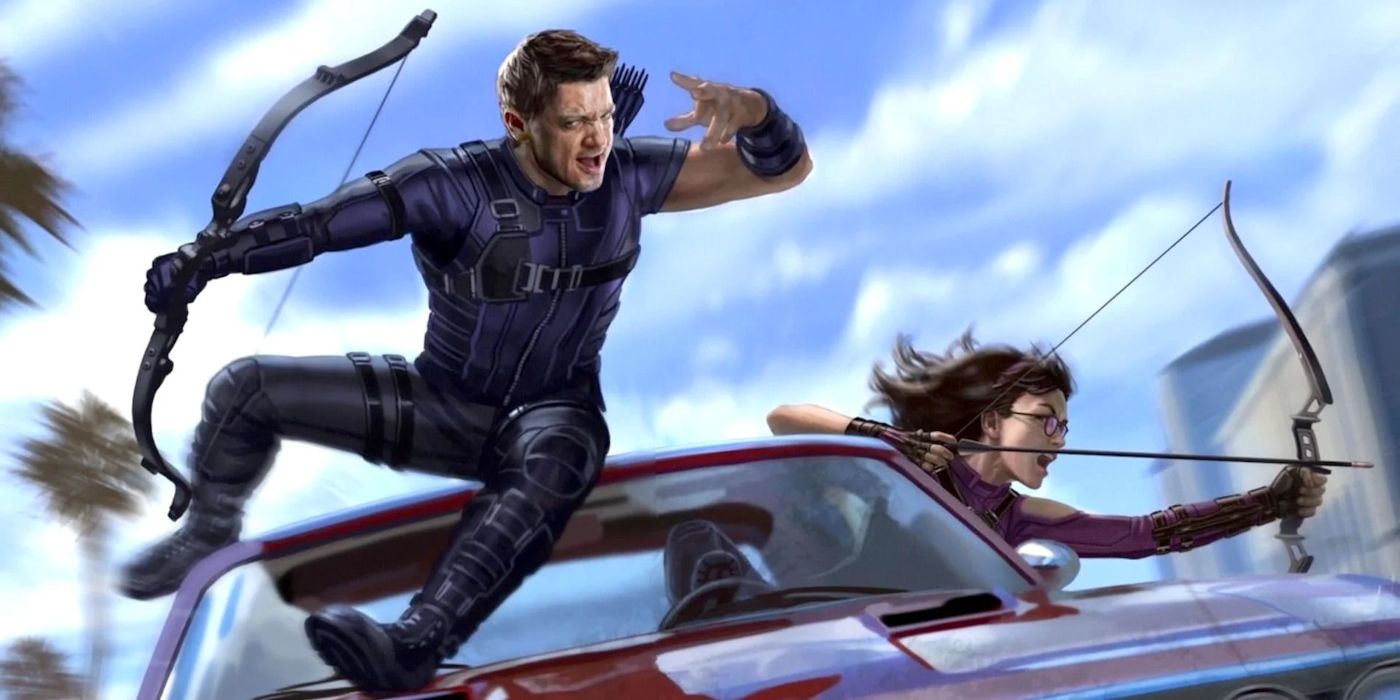 Hawkeye star Jeremy Renner repeatedly teases on social media that a huge car chase will be featured in the upcoming Disney+ series.
Jeremy Renner teases a huge car chase with new behind-the-scenes images from Hawkeye. Marvel Studios officially announced a solo project for Renner's Clint Barton in 2019, as he became the star of a future Disney+ series. This comes nearly a decade after Hawkeye's Marvel Cinematic Universe debut. Renner will still share part of the spotlight, though, as Hawkeye introduces Hailee Steinfeld as Kate Bishop. He will train her to be the next Hawkeye in the MCU.
Both Renner and Steinfeld have been busy filming Hawkeye for several months, and it was through the start of production that Steinfeld's casting was confirmed. The two stars have frequently been seen on set, but paparazzi photos aren't the only way that fans have caught a glimpse of the series. Both of the stars have repeatedly posted behind-the-scenes images from Hawkeye's set. These posts have stopped short of revealing anything too big, but some exciting tidbits can be gleamed from them occasionally.
Continue scrolling to keep reading
Click the button below to start this article in quick view.
Related: Marvel's Hawkeye: Every MCU Show Reveal From The Set Photos
Renner has now shared two more behind-the-scenes images from Hawkeye on his Instagram story. The new photos tease a huge car chase that will be featured in the Disney+ series. The first photo shows the planning stages of the action sequence, as ten toy cars are positioned on the ground. Based on other set photos and the trail of cars following it, the gold muscle car at the top of the image should be the one Barton and Bishop are in. Renner's second photo teases him and Steinfeld in the actual car ready to film the chase. Check the images out below:
Some of the earliest concept art for Hawkeye featured Clint Barton and Kate Bishop in an action-packed car chase, so this could be that scene coming to life, potentially. It will be interesting to see if the car chase has any parallels to one shown in the Matt Fraction comic series the show is heavily inspired by too. That car chase saw the Tracksuit Draculas chase after Hawkeye as he helped the leader's wife (whom he hooked up with previously) escape. Since Clint is a family man in the MCU, that would be a surprising development for his character.
Since Hawkeye doesn't feature any main characters with traditional superpowers, utilizing car chases and other action sequences for the show's set pieces makes sense. While Clint and Kate will use their bow and arrow skills throughout the series, having them just take part in a few shootouts and hand-to-hand fights could get old fast for viewers. There's no telling just how much action Hawkeye will include, but fans can now look forward to at least one major car chase.
More: Phase 4's Young Avengers Leader Needs To Honor Endgame's Ronin Arc
Source: Jeremy Renner
Black Widow (2021)Release date: May 07, 2021
Shang-Chi and the Legend of the Ten Rings (2021)Release date: Jul 09, 2021
Eternals (2021)Release date: Nov 05, 2021
Spider-Man: Homecoming 3 (2021)Release date: Dec 17, 2021
Doctor Strange in the Multiverse of Madness (2022)Release date: Mar 25, 2022
Thor: Love and Thunder (2022)Release date: May 06, 2022
Black Panther 2 (2022)Release date: Jul 08, 2022
Captain Marvel 2 (2022)Release date: Nov 11, 2022
90 Day Fiancé: Brittany Banks Shares Pre-Plastic Surgery Pic From Texas
About The Author