Movie/tv News
Handmaid's Tale: How Esther Became A Handmaid (& What's Next For Her?)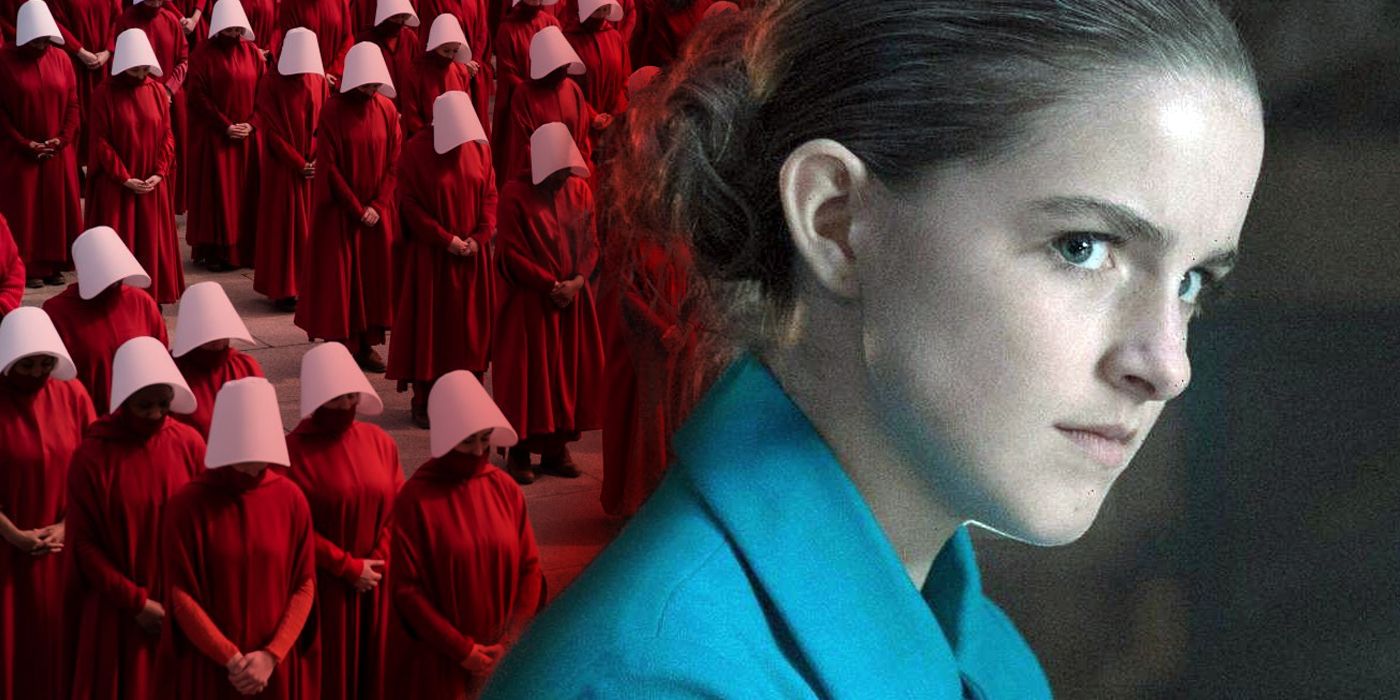 Esther has been MIA on The Handmaid's Tale since episode 3, but "Progress" reveals her fate. How did she become a Handmaid, and what's next for her?
How did Mrs. Esther Keyes (Mckenna Grace) become a Handmaid, and what's next for her on The Handmaid's Tale? Following June Osborne's successful mission to get 86 children out of Gilead during The Handmaid's Tale season 3 finale, she and her fellow Handmaids take refuge at the farm of 14-year-old Esther and her husband, Commander Keyes. After Guardians descend upon the Keyes' home and capture June, she learns from Nick Blaine that Esther is also a prisoner of Gilead. Recent episodes have focused on June's life in Canada, but fans remained curious about Esther's fate.
During the Handmaids' time at the farm, Esther becomes enamored of June, who she hopes will rescue her from her current circumstances. June and Esther forge a bond born out of their shared history of sexual abuse and violent impulses. Being around Esther triggers June's fears about her daughter's future in Gilead, prompting June to tell Esther she loves her, referring to Esther by Hannah's nickname "Banana," which shows the sentiment is meant for her child. June promises to bring Esther with her during episode 3, "The Crossing," but when Guardians raid the farm, the girl is left to deal with the repercussions of helping June and her friends. In April, Grace revealed to Entertainment Tonight viewers hadn't seen the last of Esther: "I'm very excited for my return. It's quite dramatic. In true Handmaid's Tale fashion, everything is dark and dramatic."
Continue scrolling to keep reading
Click the button below to start this article in quick view.
RELATED: The Handmaid's Tale: Will June Get Revenge On Mark & Fred?
In episode 9, "Progress," Janine, who has been doing manual labor at the Red Center since Commander Lawrence gave her to Aunt Lydia, discovers Esther is now a Handmaid. Women who break the law in Gilead are either executed, sent to the Colonies, physically mutilated, work as prostitutes, or become Handmaids (sometimes enduring multiple torments). Since Esther is young and presumably fertile, it makes sense Gilead wouldn't waste a womb, especially since the country just lost 86 children. Why Gilead drowned Nick's first wife instead of making her a Handmaid raises the question of whether or not the nature of the offense and one's ranking in the social hierarchy are factors when determining punishment (in terms of plot, Eden only became interesting after her death.) The series doesn't offer details regarding Esther's journey from a Commander's wife to Aunt Lydia's newest charge. Was she tortured for information? Did she stand trial? Did her husband come to her defense, or is he hanging on the Wall? It's unlikely fans will find out with one episode left, but the answers to these questions, as well as insight into Esther's life before she meets June, would make for a rich backstory told through the flashbacks used to give more context to June and other central characters.
Esther isn't a compliant Handmaid, and although Janine is doing her best to help her adapt, things promise to only get more difficult for Esther moving forward. Despite the abuse she endures as a Wife, Esther figures out a way to exert some control over her life, but as a Handmaid, she's powerless. Grace needs to reprise her role as Esther in season 5, because, with so many main characters in Canada, the series has to find a way to keep Gilead in the forefront. Esther and Janine could play a pivotal role in Aunt Lydia's story arc, which takes a drastic turn in Margaret Atwood's sequel The Testaments.
For now, Esther's only ally is Janine, but viewers who are hoping the two women will become Gilead's version of Thelma and Louise may be disappointed. The Handmaid's Tale producer-writer Eric Tuchman discussed Janine and Esther's relationship with EW: "Janine can take care of herself now. And Janine is the one now taking care of the more vulnerable, fragile person, Esther, and for this episode, she wants to spare Esther the suffering that Janine herself experienced." He also stated Janine doesn't have an "ulterior motive" yet. However, with Aunt Lydia searching for Janine's next Commander, that could change. With or without Janine, it's hard to envision a scenario that ends well for Esther on The Handmaid's Tale.
NEXT: The Handmaid's Tale: What Fred's Decision Means for June & Gilead
Shazam 2 Set Video Reveals Rachel Zegler's Superhero Costume
About The Author
Daily Post USA Breaking News, World News, USA
Daily Post USA||World News||Entertainment||USA||Sports||