Movie/tv News
90 Day Fiancé: Michael Jessen Posts Long-haired Younger Self With Juliana In Old Pic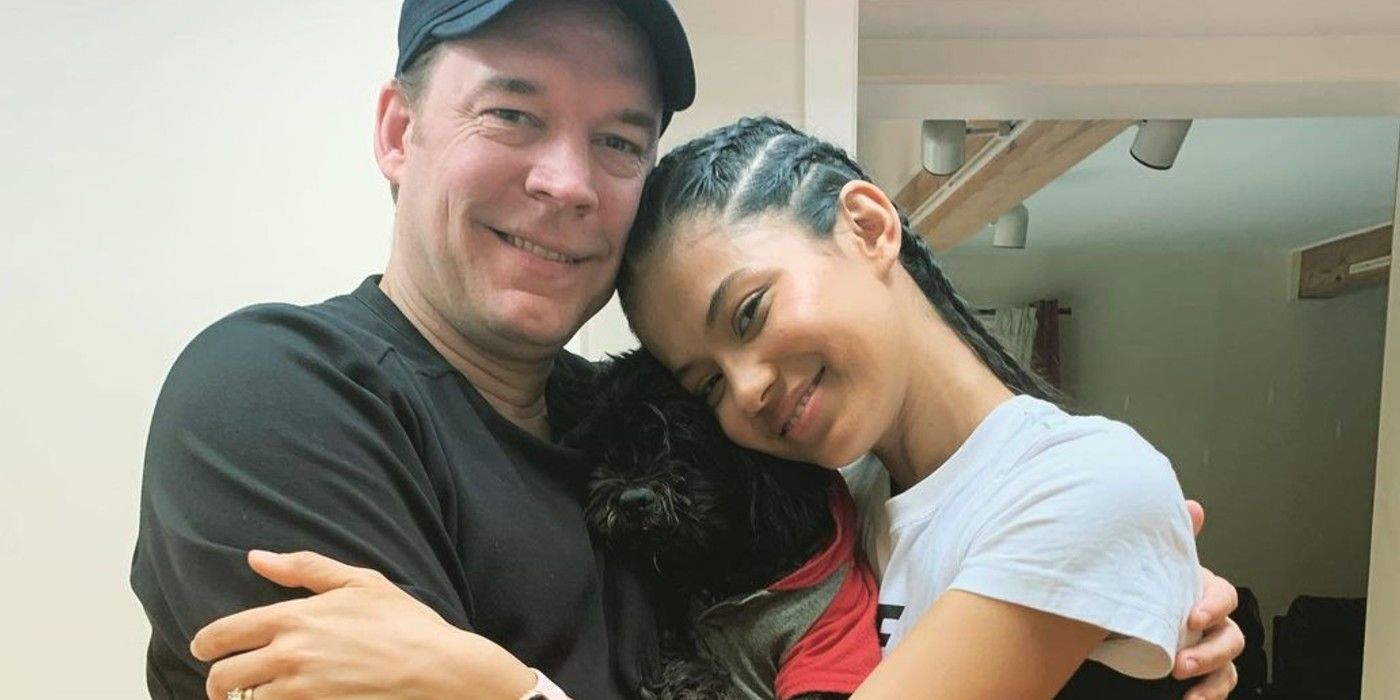 Juliana Custodio's wine entrepreneur 90 Day Fiancé husband Michael Jessen looks unrecognizable in old pic that's "2 years old and several pounds ago."
Trust a 90 Day Fiancé love story like that of Michael Jessen and Juliana Custodio to keep fans intrigued long after their stint on the show. While most fans didn't see a happy future for Michael and Juliana, despite them getting married in the finale episode, the pair is still happy together. Critics thought that Michael was too old for Juliana and many believed the Brazilian model was after his money. But Michael and Juliana are seemingly more in love than ever, proven by the throwback pic that the wine expert has shared on IG which makes both of them look almost unrecognizable.
The hate came in hot for Michael and Juliana on season 7 of 90 Day Fiancé, when the 41-year-old had revealed he was in love with his fiancée who was 23. After having met Juliana at a Croatian yacht party, father of two and divorcée Michael had quickly fallen in love. Their romance hit a few hurdles at the start of 90 Day Fiancé with Juliana getting denied a visa on doubts of "nefarious intentions," but she soon made her way into Michael's family that included his ex-wife Sara and kids Max and Cece. The friction between Juliana and Cece was evident on-screen, especially with the uncomfortable prenup scene melted away when she officiated her and Michael's wedding. And so far, things have only looked up for the loved-up 90 Day Fiancé couple.
Continue scrolling to keep reading
Click the button below to start this article in quick view.
Related: 90 Day Fiancé: Juliana & Michael's Cutest Pictures On Instagram Together
The way Michael Jessen writes "my heart Juliana Custodio" in his IG bio does indicate his love for his 90 Day Fiancé wife, but it's also the Greenwich-based entrepreneur's little throwback posts that say it all. Michael recently shared a "#TBT to somewhere warm and comfy" of him with Juliana as he wished for sunnier times in Connecticut. Flaunting the biggest smile in his Frank Zappa tee, a different-looking Michael is seated next to Juliana showcasing her best model look in a pretty floral dress. And obviously, fans couldn't help but comment on 90 Day Fiancé star husband Michael's looks.
"Michael has lost so much weight," wrote a TLC viewer, but Michael clarified that the photo is "about 2 years old and several pounds ago," as he promised he was working to get back "into shape." Another of Michael's followers gushed, "I love your long hair. So cute," and lots of other fans seem to be having "t-shirt envy" on seeing the pic. But after more than a year since their season 7 90 Day Fiancé debut, the hate towards Michael doesn't seem to have stopped. One reaction said, "definitely looking creepy asf," and "yay you found himself a child out the country.. for a wife."
But Michael surely knows how to handle the weight well as his replies to the critics are always kind and without malice. The couple was last spotted celebrating Super Bowl weekend with 90 Day Fiancé co-stars Syngin Colchester and Tania Maduro. Interestingly, even Tania and Syngin are a pair that fans never thought would last. The more 90 Day Fiancé couples hang out together and post pictures together, the more time often spent responding to nasty comments.
Next: 90 Day Fiancé: Everything To Know About Juliana's Love Michael Jessen
Source: Michael Jessen
SVU Organized Crime Spinoff Trailer Explains Why Stabler's Return Took So Long
About The Author